return to Feature Page
The Emissary
Published in black & white in "EEEK!" #5 by Black House Comics

Story by SCAR
Antoinette Rydyr & Steve Carter.
Beautifully illustrated by Jason Paulos in the classic style of Al Williamson. Hand drawn with computer colouring.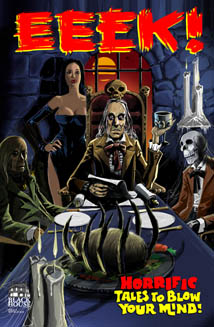 "EEEK! #5 is a superb retro anthology featuring the awesome talents of Jason Paulos, Dillon Naylor, Dan Cox, Jason Crawley..