return to Feature Page
The Tail-Gator
The Tail-Gator Published in "InvestComics Presents One & Done" 2012

Stories and Art by SCAR
Antoinette Rydyr & Steve Carter.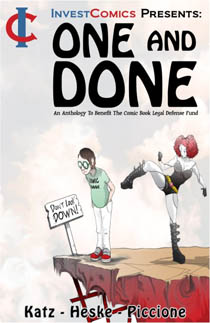 "One and Done" is a clever anthology containing amusing, scary, and twisted single-page tales of death and demise, with 100% of profits going to support the Comic Book Legal Defense Fund. Editors: Jay Katz, Bob Heske, Sebastian Piccione.